Haier QHE16HYPFS is a French door refrigerator that has been making waves in the modern market. Having studied various Haier 16.8 refrigerator reviews, I became interested in getting to know this model in more detail and testing it myself.
In this article, we will take a closer look at this model and its features. My Haier QHE16HYPFS review will focus not only on the design and features but also on my personal experience of using it. It was released in 2021 and is part of Haier's premium line of refrigerators. So, let's have an in-depth conversation about this model, its features, and my insights based on my experience.
Design and build quality
At first glance, you're met with its fingerprint-resistant stainless steel finish. I believe this adds an aura of sophistication and makes cleaning remarkably straightforward. Especially for those who've had the pleasure of experiencing a Haier 33-inch refrigerator before, the counter-depth design of this model is nothing short of a revelation. It integrates beautifully with adjacent cabinetry for that built-in look, an element often highlighted by the specialists in other Haier quad-door refrigerator reviews.
Inside, the quad-door design, a hallmark of the Haier 4-door refrigerator lineup, is both aesthetically pleasing and functionally efficient. Those adjustable, see-through door shelves? They're a dream for organization enthusiasts like me. Moreover, the interior LED lighting is an unsung hero, illuminating every nook and cranny.
Based on my experience, the premium stainless steel construction of the Haier QHE16HYPFS signifies longevity and a dash of luxury to its overall demeanor.
You're probably curious about the storage space. Well, here are the specifics: the refrigerator boasts an overall capacity of 16.8 cubic feet, providing ample room to store all your essentials. Within this space, the freezer compartment is designed with approximately 5.54 cubic feet, making it convenient to store frozen goods.
To better organize your items, the refrigerator comes with adjustable tempered glass shelves that allow you to customize your storage arrangement as needed. These shelves are complemented by see-through door shelves, which are also adjustable and offer the flexibility to store even large containers.
Additionally, the appliance features drawers that provide extra storage space, helping you to neatly arrange different types of food items. I've done a lot of Haier refrigerator reviews before, and I can assure you this fridge is a worthy investment.
Features and technology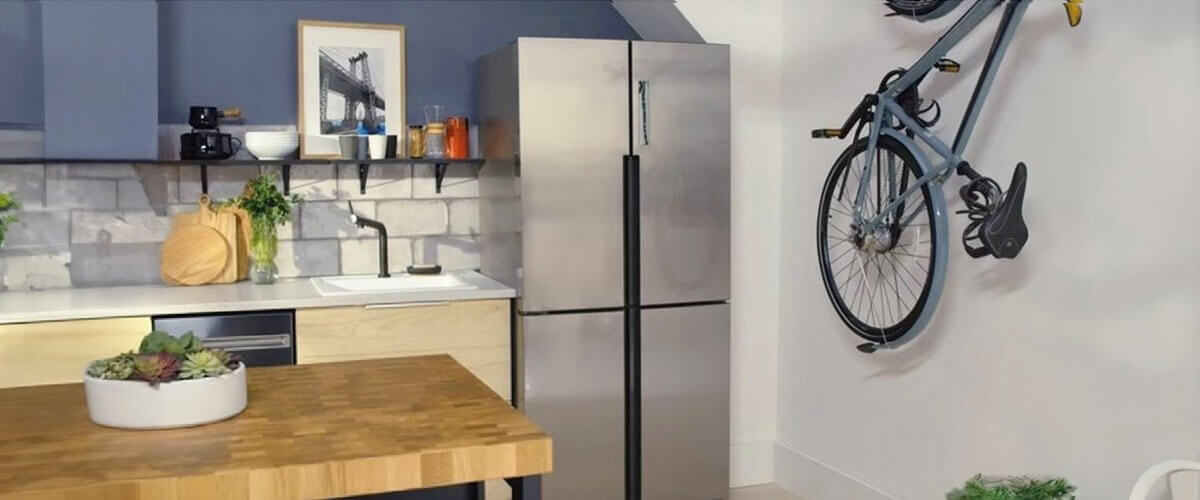 Now, to the exciting part. The Haier QHE16HYPFS is no ordinary refrigerator. It's a culmination of ingenious features and advanced technology. Here's what you can expect.
The water and ice dispenser is a handy feature, particularly useful during hot summer days. What makes it even more appealing is the built-in filter, ensuring that you always have access to untainted water. Adding to the convenience is the embedded air purification system, which efficiently keeps the internal environment fresh, free from unwanted odors.
One feature that stands out as a true time-saver is the self-defrosting mechanism. With this, you can finally say goodbye to the tedious task of manual defrosting. By the way, if you're keen on reducing your energy bills, you'll appreciate the energy-saving modes this refrigerator offers. All these features combine to make it a versatile and practical choice for any household.
The Haier QHE16HYPFS operates quietly, thanks to its advanced compressor and fan technology. The noise level of the refrigerator is measured at 42 decibels, which is considered to be relatively quiet. This means that the appliance will not disturb your daily activities or interfere with your sleep.
Conclusively, if you're on the hunt for a refrigerator that marries efficiency with elegance, the Haier QHE16HYPFS could be a commendable choice. I've shared my perspective; now, the decision lies in your hands.
Key specs
Electrical requirements: 115V/60Hz.
Measured capacity, cu.-ft: 11.20 fridge, 5.56 freezer.
Dispensers: ice bucket, 1 ice tray.
Special features: center pocket handles, HIPS.
Finishes: fingerprint-resistant stainless steel.
Dimensions (HxWxD), inches/cm: 71×32.8×26.5/180.3×83.3×67.3.
Pros
Energy-efficient.
Sleek and modern design with a fingerprint-resistant stainless steel finish.
Ample storage capacity with adjustable shelves and door bins.
External water and ice dispenser.
Cons
Limited color options, available only in stainless steel.
Some users have reported issues with the ice dispenser getting clogged, but I can't confirm it, as there was no such issue during my testing.
The refrigerator may take some time to cool down after defrosting.